Jim Bones - Pirate
Jim Bones
1699 – 1718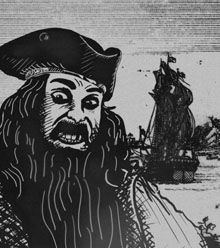 Records indicate that the Pirate 'Jim Bones' probably came from somewhere in southern Ireland. He was active in the atlantic ocean plundering many ships and amassing large amounts of treasure. Although he was ruthless when it came to taking ships, he was renouned for being a fair captain amoungst his crew who called him "The Good Captain". Bones and his crew were known to sail in two ships: His first ship "The Black Swift" is rumoured to have sank somewhere in the caribbean, being lost in a storm after just a year of pirating. His second ship "The Calico Princess" served him well for many years.
Compared to other pirates of his day, Bones was active over an huge period, spanning nearly 20 years. The Calico Princess was finally docked in Penzance, Cornwall in 1718 and neither Bones, his crew, nor (strangely) his ship we're ever seen again. It is assumed that he lived out his days peacefully.
The Calico Princess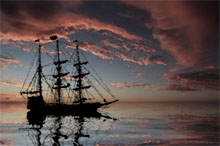 The Calico Princess was the much beloved vessel of Pirate Captain Jim Bones. It was reputed to be his second ship, the first (The Black Swift) being sunk somewhere in the Carribean. The princess was a mighty Galleon.