Ships
Pirates would sail the seas on many different type of vessel, from small fast schooners to giant formidable galleons. But all these ships would have one thing in common - they would have all been stolen!
Below you can finds out more about the most famous pirate ships and who sailed on them.
Queen Anne's Revenge
Blackbeard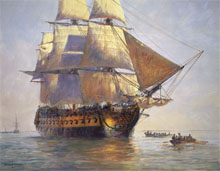 Queen Anne's Revenge was originally a French slave ship captured by the legendary pirate in 1717 and sunk off the coast of North Carolina almost 300 years ago. In 1996 the wreckage site of the Queen Anne's Revenge located and ver 250,000 artifacts have been found and rescued from the ship.
Adventure Galley
Captain Kidd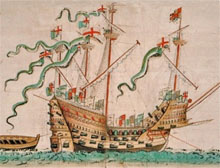 She weighed 236 tons had 3 masts and had 34 cannons and was powered by 36 oars with a crew of about 150. Built in 1695, but burnt and sunk at Saint Mary's Island in 1698. Kidd ordered her to be burnt because she had become worm-eaten and leaky.
The Calico Princess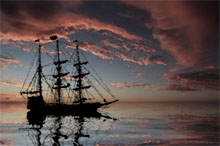 The Calico Princess was the much beloved vessel of Pirate Captain Jim Bones. It was reputed to be his second ship, the first (The Black Swift) being sunk somewhere in the Carribean. The princess was a mighty Galleon.
Fancy
Henry Avery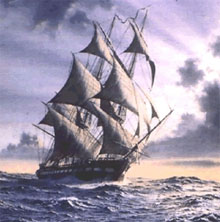 The Fancy was initially a 46-gun privateer named Charles II. On May the 7th, 1694, Henry Avery and a few other conspirators organised and carried out a successful mutiny. They set it's original Captain (Captain Gibson) ashore, and left for the Cape of Good Hope renaming the ship Fancy.
Although the fate of the Fancy is unknown, it was rumored that Every gave her to governor of Nassau as bribe.
Liberty & The Amity
Thomas Tew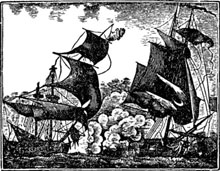 Tew's first ship was The Amity on which he set out as a Privateer. He later sailed on the Liberty, but then returned to the Amity sometime after that. The fate of these ships is unclear.
Other Known Pirate Ships
Here are some other pirate ships that you might like to research further:
The Revenge
The Williams
Pearl
Victory
Royal James
Delivery
The Rising Sun
The Ranger
Neptune